THE FAMILY GUIDE TO TAKING CARE OF ANIMALS & To Start A Hustle.
Hey Friends ,
Take a Glass of Cold Water or Hot Coffee as per suiting  to  your taste to cool your  mind AS I am going to give you plenty of valuable Info FRRREE and some thing in Opportunities to make A side hustle /AN extra income from home – Good for Single Moms,Single Dads, Young, Retired and Pandemic victims.
You may be an enthusiastic Pet owner or you are just bringing a new pet for the first time into your house. It will be an intimidating and exciting. Even if you have an animal at home or this is the only one coming home for the first time , a  pet at home leads  to plenty of unplanned issues and it affects all people in the house.
Are dogs different from Rabbit and cats? Of course ! They  are different . You can not imagine of a  bird flying  freely around the house,when you have a Dog or Cat  or both in the house? Until you have already trained them.? There will be a scene and breaking up of things every time a bird appear.
Here are some tips for taking care of pets at home ,especially during the lock down and pandemic . We will be focusing on the common household pets,the Dog and Cat. Whether you're becoming a first-time pet owner or an
old time acquaintance with pets at your home.this guide is gong to be an help to all family members alike. And some Tips & Tricks to start an Hustle as well.
TAKING CARE OF CATS—FOR THOSE WITH FELINE FRIENDS
Basic Principle :
Keep your Pet indoors to ensure their safety and avoiding neighborhood chaos.  Though some pet owners freely allow their pets ,specially Cats to roam the neighborhood, that's not a good thing. It resembles to be an astray and may eat and develop traits not liked by you . And might become a problem for you.
You should also have some kind of identity ,a good looking collar with a micro chip like , "Findster Duo+ Pet Tracker Free of Monthly Fees – GPS Tracking Collar for Dogs and Cats & Pet Activity Monitor",available on Amazon. This increases the chances of your Pet's safely and returning to home is more likely ensured ,if they somehow slip away to a distant neighborhood.
As far as feeding , it depends on your personal routine that suites well to feed the pets timely . Some felines can handle access to food throughout the day. Some,like humans are prone to overeating and need to be trained and controlled for feeding  habits.
Second , you should initially read the Instructions and nutritional facts on the label of the food you are buying for your pets,specially during the initial days of bringing the pet at home. There should be  a good balance of fat and protein. It is better to discuss  time to time  to your vet  regarding food being given to your pets.
The  litter box, cat toys, nail clippers, and a scratching post are a few and a must equipment for a pet. The  declawing is not necessary until you feel hurt or scratch when the pet jumps in to lap or on the back. It is also recommended if the cat  can't resist furniture.
It's also a good idea to regularly wash and groom you cat. They certainly enjoy being brushed. The regular grooming also helps in  minimizing hair balls.
Veterinary  Visits To Take Care: 
You must visit a veterinarian soon after you bring your feline friend home to check for worms and other physical scars ,wounds etc. Get them  vaccinated. These routine visits only take about 30 minutes.but ensures a healthy life to the pet.
TAKING CARE OF YOUR DOG :
Basics Needs : 
Dog eats like a king ,so ensure a high quality food is his diet and fresh clean water to drink, especially if you're bringing home a puppy.
Environment is another factor that relates to Dogs ,especially  If your pooch  stays outdoors, you'll have to arrange some kind of temperature control system to ensure it's comfort,eg;  a heated shelter during winter and access to cool water during the summer. An identification similar to the Cat is also equally important for both indoor and outdoor dogs.
There is an important point related to Dogs that you have to set aside lots of time for  it's  walking. Most experts suggest that a dogs need to be taken for a walk at least once in a  day. This doesn't include bathroom breaks.
Veterinary Visits :
Unlike Cats , Every puppy should have their first visit to the veterinarian when they're around three weeks old for  physical check-up and testing for worms. The vaccination and reproductive surgical procedures may also be done when they are  around eight weeks old.
Newly adopted older dogs will also need similar first vet visit,along with any available health records.
After a final round of vaccinations around four months of age, Schedule the yearly Vet visit for the Pub. Take good care and be vary to look out for signs of health issues like  Weight loss, changes in behavior.
Then  comes their proper hygienic and nutritional foods. The
is most ideal store on line. We're working to become the most trusted and convenient online destination for pet parents and our partners – vets and service providers – alike. We have everything you need for your pet at amazing prices, every day. Explore more than 1,000 favorite brands, including Blue Buffalo, Nutro, Natural Balance, and Tidy Cats – all from the comfort of home.
PROVIDE THE BEST CARE
Properly taking care of animals is generally done well as all family members feel it their responsibility. And addressing  nutrition, habitat, and everything in between,as discussed above  to keep your pet happy and healthy. Ensuring a relationship with a veterinarian is and your pet is one of the best ways to ensure you accomplish  your pet's immediate needs.
Meet The Expert :
Hi, my name's Sarah Richards, and this is my cat Timmy.  Timmy is a  well-trained cat who hasn't peed outside the litter box in 3 years.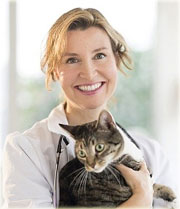 Then comes the His Issue..The Dog one..
As you may know or not – my name is Adrienne Farricelli.
I'm a professional CPDT-KA certified dog trainer living in Arizona with my husband and our two amazing Rottweilers, Einstein and Petra. Needless to say, I'm passionate about dogs and absolutely love what I do.
Almost ANY behavior problem,  as you see above or you can think of in Puppies or grown up Dogs, can be quickly and easily cured with the simple techniques  shown here…  
I have also:
    .Had my work featured in USA Today and Every Dog magazine.
Contributed to eHow and All Experts.
Helped thousands of struggling dog owners all over the world.
Run a successful cage-less board and train company.
Provided training to service dogs for military veterans.